Click to enlarge

Last update: 05/18/13 01:19:26
Account: Artist Quota

Location: AMERICA NORTH: USA: Massachusetts (MA)
Signed up: 06 Nov 2011 01:05 PM
Members: E.G.O., Galaxy & Hector Marciano
Genre: Hip-Hop
Influences:
Website: http://www.facebook.com/CrookFirm

Biography
Boston, MA

Crook Firm consists of 3 Massachusetts born and raised lyrisists that go by the names E.G.O. , Galaxy & Hector Marciano. E.G.O. and Galaxy are blood brothers . The group formed in 2007 when E.G.O. and Marciano were introduced to each other by Galaxy in Loring Job Corps Center. Marciano and E.G.O. made a song together with another job corp resident which became a instant campus hit and showed the chemistry Marciano and E.G.O.have on records. From then on Marciano and E.G.O. continued makin music together on Galaxy beats with Galaxy features and other local close friend lyrists and producers down for the "Smoove" movement aka "Smoovement"

In the fall of '08 Marciano and E.G.O. Named the group with the two of them and Galaxy , "Crook Firm" , after hearing E.G.O. Refer to the group as that in one of his lyrics. Crook Firm currently are a branch off of a dynasty with other local groups down for the Smoovement formed together called "SmooveGang".





"AIRPLANE MODE: WE CAN'T BE REACHED"
(the album)
by CROOK FIRM
[COMING SOON]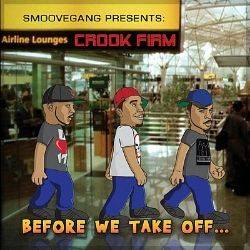 "BEFORE WE TAKE OFF"
(the mixtape)
by CROOK FIRM
Free Download Link:
http://bit.ly/sAyXNp
Posted: (2)
By Charisma (unregistered) 14 Nov 2011 05:00 PM Reply

YOU KILLED IT TWIN-CAP.... IM LOVING IT... ;) TAKE YOU ON A RIDE... IS DEF WHATS UP..... :)
Would you like to review?
Join
newenglandhiphop.com
for a free account, or
Login
if you are already a member.
Current Friends (0)
You do not have any Friends.