Click to enlarge

Last update: 05/22/13 12:26:05
Account: Artist Quota

Location: AMERICA NORTH: USA: Rhode Island (RI)
Signed up: 16 Feb 2012 02:23 PM
Members: Jane Nithrow
Genre: Hip-Hop
Influences:
Website: http://facebook.com/janenithrow

Biography
Providence, RI

Jane Nithrow has been in the industry for over ten years now. She has fought long and hard; and she is not giving up any time soon. She went from having so much faith in record labels and A&Rs and having barely any faith left in herself when she was shipped from office to office only to be told the same lies, sold the same false dreams and misled and misguided but most importantly misunderstood and underestimated. They all said the same thing, "you've got it but..." there was always a but and with that "but" they pushed her underneath a guy, saying the only way she could ever be successful was to come out from under a male rapper. She politely thanked them and declined. She said proudly, "I am no longer chasing a major deal, I am just chasing my dream and that is music."

Born and raised in Providence, Rhode Island – this lady soldier is not one to be messed with. Her voice is one of her most unique traits along with an ambitious personality and beautiful looks to go with it. When asked to describe her style, she said confidently "My style is not to be boxed in. I rap fast, slow, sexy, hard… I deliver a message. Sometimes, I just say ignorant sh**. I am a story teller and can punch line rhyme. My voice is my trademark!"

At a young age, Jane fell in love with music. She started out exploiting her writing talents through stories and poetry, making people fall in love with her words. She blessed Missy Elliot's "Hot Boy" beat with her rhymes. She kissed saxophones in the third grade, banged on drums in the sixth and even put a spin on the turntables. In 2002, her first show was her paradigm shift when her blood rushed with adrenaline, her energy boosted and her voice shouted with power. Finally realizing her purpose in life, she is following her heart, fueling her passion and chasing after her dreams.

Recently you might have heard her solo killing the "I'm Ill" beat on Super Star Jay's mix tape series or saw her live at a Hot Import Nights car show with her group A-LIST. She just started her own company called Seven Holdings LLC. Jane Nithrow has support from music artists such as Alicia Keys who pulled her over at her album release party and said "You got it, don't let no one tell you different, you just gotta do it." That alone should tell you that she is extremely talented but she displays her writing skills on her first official release called "10 Paces." Shortly after she is slated to release her first street album, sarcastically name A&R (Art & Reality).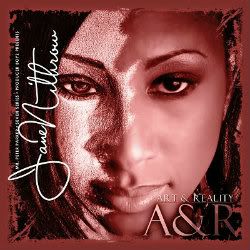 "A&R" (ART & REALITY)
(the mixtape)
by JANE NITHROW
Free Download Link:
Coming June 7th
Posted: (5)
| | |
| --- | --- |
| | |
| | |
| --- | --- |
| | i agree with tara like like |
| | |
| --- | --- |
| | Im dign this song! I sing and Rap my facebook is Kizzie kizz! |
| | |
| --- | --- |
| | Love your new song like like |
Would you like to review?
Join
newenglandhiphop.com
for a free account, or
Login
if you are already a member.